Location Relaxia Los Girasoles

Playa del Inglés is a development built in the early 1960's, where there are shopping centres, hotels and residential apartments, which makes it a quiet area but at the same time one with plenty of life. It belongs to the municipality of San Bartolomé de Tirajana, and is located between the eastern edge of the Maspalomas Dunes and the beach of San Agustín. The area has a wide variety of services, such as shopping centres and popular restaurants, where you can enjoy both traditional Canary Island and international food. But, in addition, Playa del Inglés is famous worldwide as a leading destination for the LGBTI community. Few places hold better fiestas, Gay Pride and the Carnivals being shining examples.
Our Bungalows are close to Playa del Inglés, one of the best beaches on the island, which is approximately 3 km long and 100 metres wide. Its sand is fine and golden, and its waters are transparent and calm, ideal for various water sports and activities for all ages.

It has boasted a blue flag since 1988, and together with Maspalomas, is the main tourist beach of Gran Canaria. It also has a well-defined nudist area and lots of services, such as public bathrooms, lifeguards, sun loungers, parasols, showers and beach bars, as well as a pleasant promenade packed with bars, restaurants, terraces and shops.

Just a few kilometres from our Bungalows at Playa del Inglés there is the Jumbo Shopping Centre, where purchases are more affordable than on the mainland due to the exemption from VAT.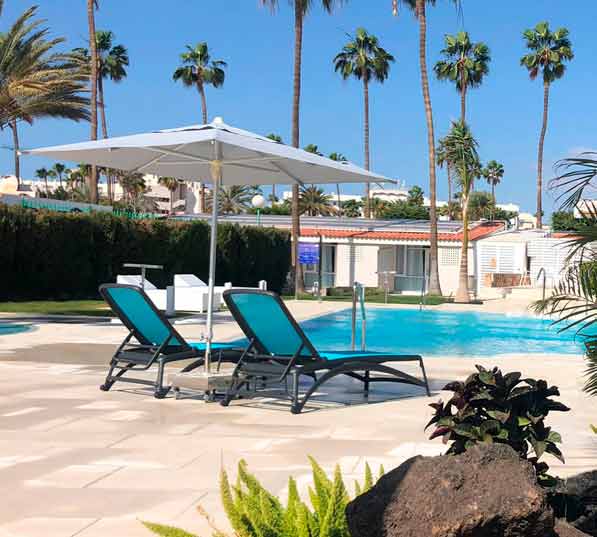 Av. Arquitecto Manuel de la Peña Suarez, 25, 35100 San Bartolomé de Tirajana, Las Palmas, Spain

928 76 08 22
928 77 16 73

reservas@relaxialosgirasoles.com